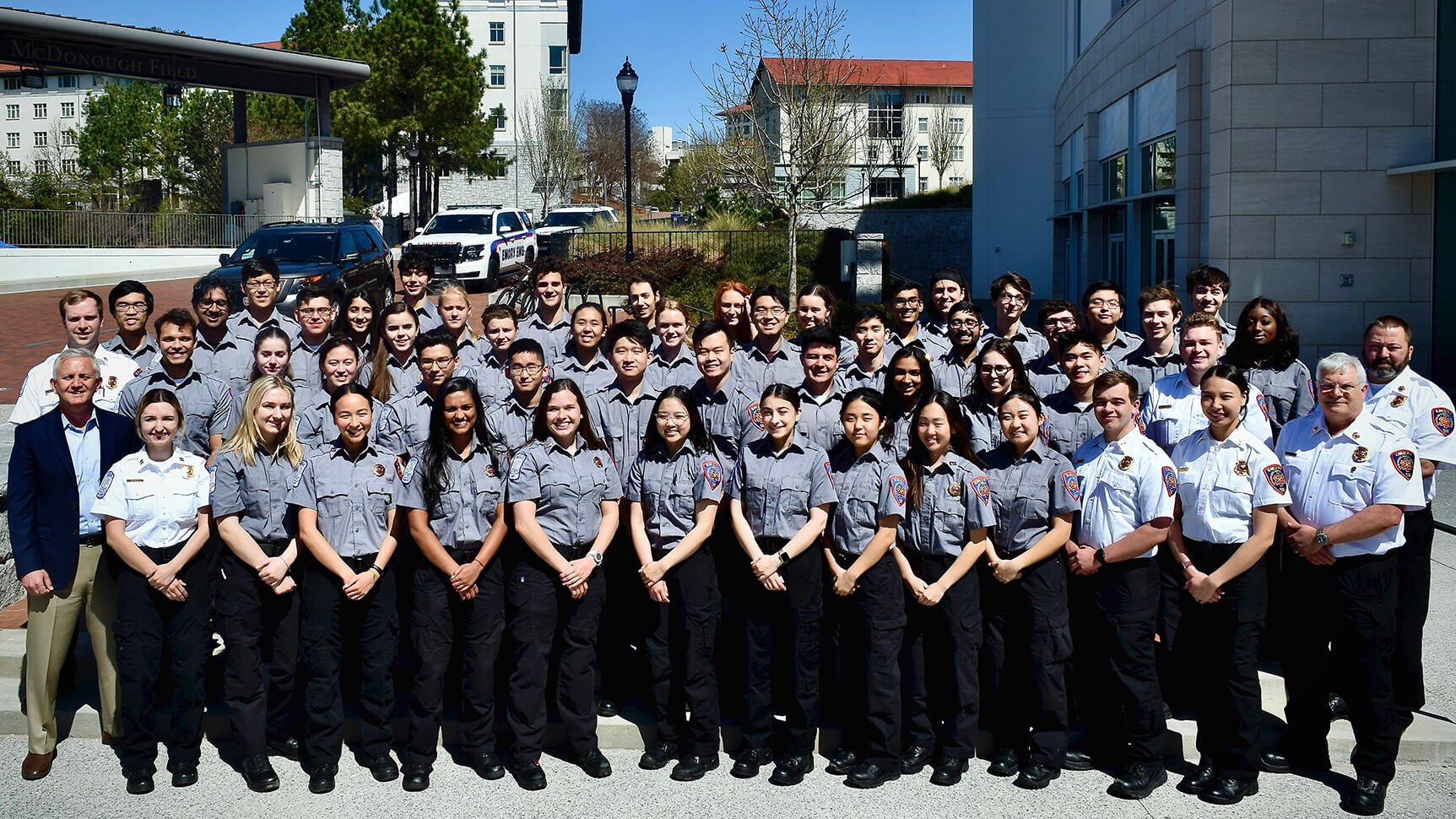 Emory EMS Team
---
2022–2023 Volunteer Team
The Emory EMS volunteer staff consists of licensed basic emergency medical technicians (EMTs), advanced emergency medical technicians (AEMTs), and paramedics.
How to Join
Emory EMS offers an annual, campus-based EMT course so that we can maintain a cadre of trained volunteers to staff the program. The program has 40–45 volunteers who are licensed in Georgia as EMTs, advanced EMTs (AEMT), or paramedics (EMT-P). We are looking for people to join our team! If you are interested in joining us, please contact us at emoryems@emory.edu.
2022–2023 Emory EMS Command Staff
Grace Johnson, AEMT
Class of 2023
Chief of Emory EMS
Eleanor Du Plessix Gray, AEMT
Class of 2023
Division Chief of Operations
Hannah Finke, AEMT
Class of 2023
Division Chief of Training and Education
Sabine Schroepfer, AEMT
Emory Alum, Class of 2022
Division Chief of Support Services
Emory EMS Leadership and Management
The Office of Critical Event Preparedness and Response (CEPAR) advises and manages the Emory EMS program. The leadership team consists of the following CEPAR staff.
Sam Shartar, MSN, RN, NRP

Director of Emory EMS
Senior Director of Operations, Office of Critical Event Preparedness and Response
Alex Isakov, MD, MPH

Medical Director
Executive Director, Office of Critical Event Preparedness and Response
Wade Miles, NRP

Director of Operations
Operations and Training Manager, Office of Critical Event Preparedness and Response
Angela Adams, MPH, AEMT

Operations Manager
Planning and Exercise Manager, Office of Critical Event Preparedness and Response
Jacob Klaus, AEMT
EMS Education Program Manager